The origins of Helsinki's Central Park lie in a plan drawn up by architect Bertel Jung in 1911, which also included Töölönlahti Bay and its surroundings. The surroundings of Töölönlahti are often considered part of Central Park, but officially the Park starts at Laakso and continues northward all the way to the city border, terminating at the river Vantaanjoki.
The construction of the Ruskeasuo Equestrian Hall, also called the Olympic Manège, began in the late 1930s, when Finland was chosen as the host of the 1940 Summer Olympics. However, it wasn't until 1952 when the games were finally held in Helsinki that the horses taking part in the Olympics finally arrived at the stables. Nowadays the stables next to the equestrian hall house Finland's oldest horse riding school, Keskustalli, as well as Helsinki's only police horses.
Maunula hiking lodge, visible in the main picture, was built in 1914. The lodge used to be used by civil guards and the Finnish Forest Association. The lodge's surroundings were used for target practice during the 1952 Summer Olympics and all the way to the early 1960s. While the shooting ranges have since become overgrown with trees, traces of them still remain, particularly on the eastern and northern sides of the lodge. Nowadays the lodge houses a café and a hiking sauna operated since 1960 by the outdoor recreation association Helsingin Latu.
There are a number of fortifications built by Russians during the First World War littered around different parts of Central Park. They were part of the chain of fortifications built around Helsinki in 1914–1918, which was in turn a part of the defence system meant to protect Russia's capital, St Petersburg. Russia was at war with Germany at the time and the chain of fortifications was built in case the Germans were to try to attack St Petersburg through Finland. Since 1971, the fortifications have been considered fixed antiquities and thus protected by the Antiquities Act.
In the north, Central Park opens up, encompassing the old forests and fields of Haltiala Manor. Here you can also find Niskala arboretum, a collection of exotic tree species established in 1905 by the lord of Tuomarinkylä Manor, Jacob Kavaleff. Parallel to the Vantaanjoki river valley runs Kuninkaantammentie, an important route to the church of the parish of Helsinki dating back to the 16th century. The river Vantaanjoki itself also used to be an important transport route between inland areas and the coast.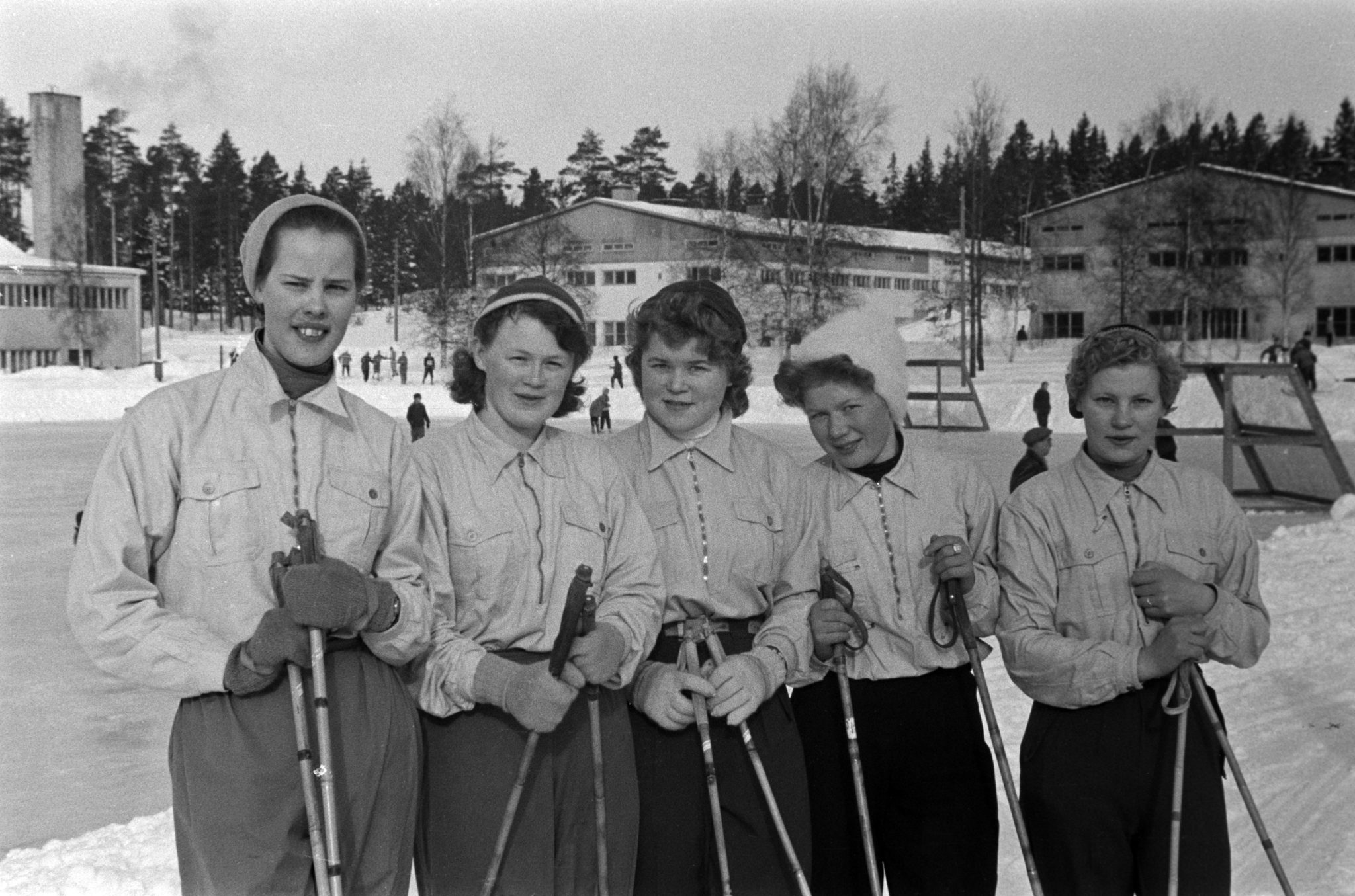 A skiing competition at Ruskeasuo sports park in 1950, with the Ruskeasuo stables and Ruskeasuo sports hall visible in the background, photo Helsinki City Museum, photographer unknown.