The City of Helsinki purchased Uutela as a recreational area in 1953 before the region was joined with the City in 1966. In 1967, the recreational area was named Uutela after Nybonds Farm.
Uutela has been inhabited since the 17th century. In the late 19th century several high-value villas were built along the shores, including Villa Meriharju, designed by Selim A. Lindqvist, and Villa Vuosanta, designed by the architecture firm Gesellius-Lindgren-Saarinen. The gardens of Villa Meriharju and Villa Vuosanta are highly valued garden heritage sites.
Skata Farm, located in the middle of Uutela, is a Swedish crown farm from the 18th century. Though the farm was owned by the Swedish state, it was handed down from one generation to the next, with the user only paying the taxes for the farm. The ancestral farm was joined with Vuosaari Manor at the end of the 19th century. The current main building dates to the 19th century. Of the other old buildings, only a stone barn, a wooden granary and two sheds remain.
Finland's oldest horse riding school, Keskustalli, operated out of Skata Farm from the mid-1950s until the 1970s. In those days herds of horses galloped in the pastures and many young people from Helsinki learned how to ride at the school's summer camps. Another popular activity was taking the horses to paddle in the sea.
Artist Miina Äkkijyrkkä and her eastern Finncattle – native to Finland – lived on Skata Farm between 1996 and 2010. In 2011–2013, the farm was used for horse riding therapy by the Finnish Federation of Settlement Houses. In 2017, the Finnish Blue Ribbon started to use the farm for its Green Care operations. The farm includes a hut with a fireplace, which hikers are free to use at the weekends.
In the 1860s, nearly all of the large islands off the coast of Helsinki were put to military use in order to strengthen the Viapori sea fortress. During the First World War, the islands were fortified further. The artillery bunker located in the middle of Skatanniemi, built by the Russians in 1917, is from this period. The bunker is the only seafront base located on the mainland in Finland.
The four artillery units were never installed and ended up being abandoned on the beach. On the north-west side of the artillery battery, by the shore, there was a pier for transporting supplies, a concrete mixing plant and barracks for a few hundred workers. The artillery battery's role was to defend Helsinki from the east, against attacks coming from the sea. The centre of the battery has been torn down to make way for the road leading to the area's residential plots, but otherwise the structure is quite well preserved.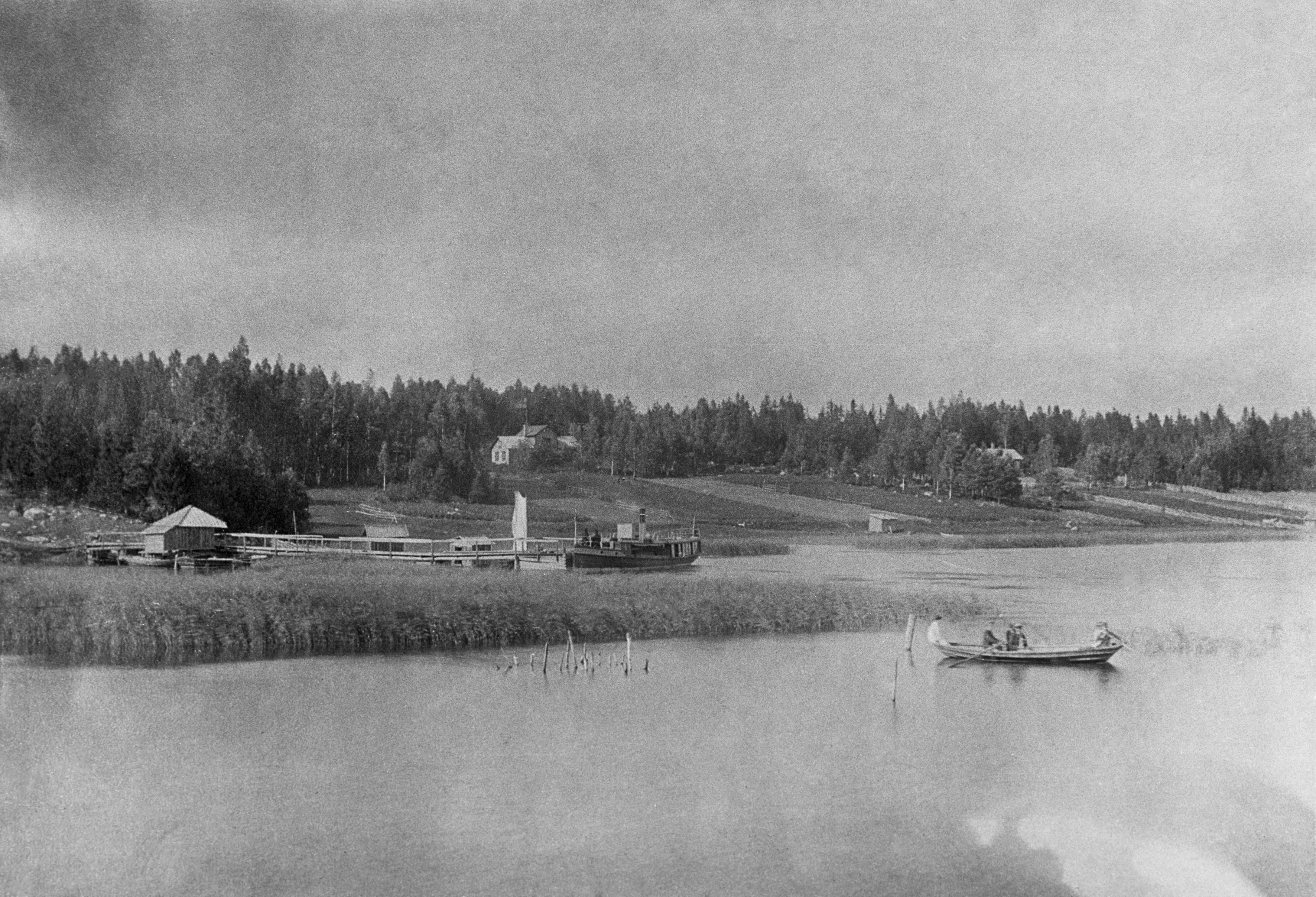 Långviken, or Pitkälahti, located next to Skatanniemi, early 20th century. Photo from Helsinki City Museum, photographer unknown.