Vanhankaupunginlahti was designated a nature reserve in 1959. This bird wetlands have been a notable hiking destination since the 19th century, when the area was visited several times by bird painter Magnus von Wright, among others.
In the 20th century, the Vanhankaupunginlahti area was famous for its black-headed gulls, which nested in their thousands around the wetland ponds.
The area's shallows became heavily polluted in the 1960s and 70s, when inadequately treated waste water was drained into Vanhankaupunginlahti. Nowadays the bay is in the process of recovering, and many new species of birds have started nesting there in the 21st century. This has served to make Vanhankaupunginlahti an even more popular destination.
Pornaistenniemi is a Finnish corruption of the peninsula's Swedish name, Borgnäs. After the establishment of Helsinki in the 1550s, the plan was to build defensive earthworks on the peninsula. At the time, the peninsula was also the site of a royal Swedish shipyard. There are two sheds on the shores of Pornaistenniemi left over from the time that the peninsula was used as a base for operations by log driving companies in the early 20th century.
Lammassaari was already inhabited in the late 19th century, when it was part of the lands of Viikki Manor. At the time there was a cartway leading to the island where the duckboards are now located. The island was leased by Raittiusyhdistys Koitto ry in 1904 for use as a summer camp. That same year saw the construction of the Lepola building, which was followed by the construction of Pohjolan Pirtti (Pohjola Cabin) in 1905.
Originally people only took daytime trips to Lammassaari on large church boats. Eventually people also started staying overnight in the Lepola building and in tents. From 1913 onwards, visitors started building light carboard huts on the island, which were taken down for the winter. The construction of the island's characteristic summer huts began in the 1940s. Nowadays there are just over 100 privately-owned summer huts in the area.
The first duckboards to Lammassaari were completed in 1991 and the island's first bird watching tower was built in 1993.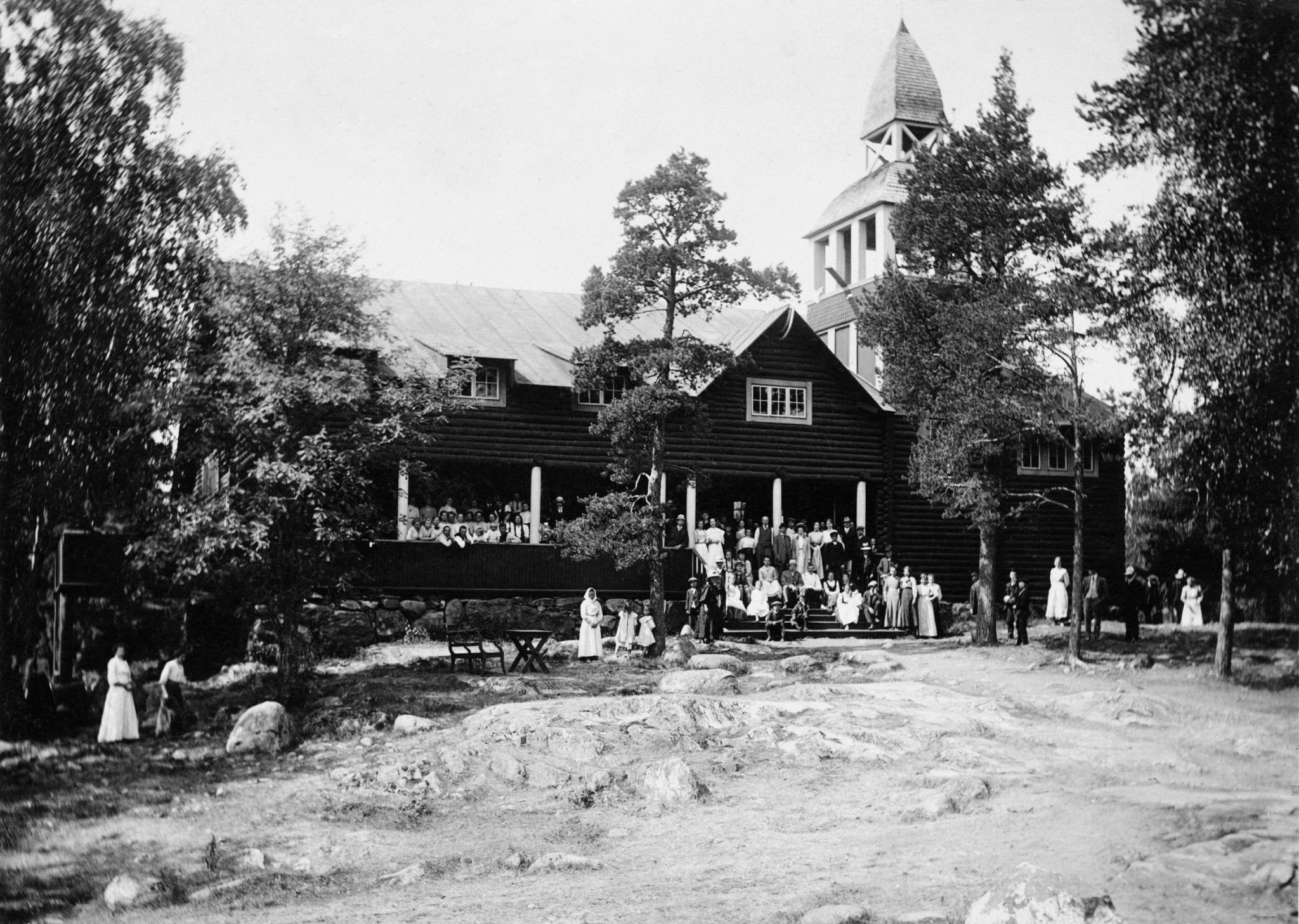 Pohjolan Pirtti (Pohjola Cabin) on Lammassaari island, built in 1905 by Raittiusyhdistys Koitto. A café wing was added to the building in 1930. Photo Helsinki City Museuam, unknow photographer.